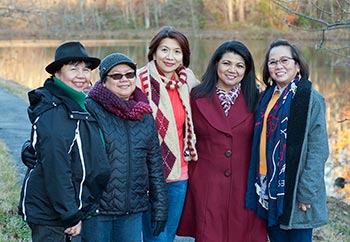 Over 20 years ago, Yolanda Polintan, RN, saw an ad for UVA nursing recruitment while flipping through a nursing magazine. She and her sister, Charito Seguerra, RN, BSN, had spent the last 10 years as nurses in New York City. They had originally come to New York from the Philippines to start their nursing careers.
In New York, they became friends with fellow Filipinos Maria Evangelista, RN, BSN, Marie Mendoza, RN, and Lynn Gallardo, RN, BSN. All five eventually became inseparable.
For a decade they endured the congested urban neighborhoods of New York while working as nurses in its hospitals. It was time for this tight-knit group of family and friends to consider taking their next step.
Like their first move from the Philippines to New York, they wouldn't be able to go all at once. But little by little, they would make sure that they eventually reached their next destination together.
A Promising Career Path from the Philippines
Polintan had been the first to arrive in New York from the Philippines, where she saw nursing as "the best and easiest way to go abroad." Seguerra, a school nurse, soon followed her sister overseas. They were part of an ongoing recruitment of Filipino nurses to fill the nursing shortage in the United States, which Anne Brice describes in Berkeley News as a migration that had been happening since the 1960s.
The move from the Philippines to New York presented some unexpected challenges. Their new neighborhoods were more crowded, littered and impersonal than they had ever imagined. The long shifts at the hospital, along with the immigrant application process and the nursing exam preparations, could be taxing.
And then there were the families they had to leave behind.
A Long Transition, Away from Family
The transition to the United States would be a long and strenuous one for many of the families, as some had to stay behind in the Philippines.
"I left my son with my mom and my sister. He was one year old," remembers Evangelista. It would be two long years until he would be able to come to New York. Meanwhile, his mother prepared for her examinations and worked on attaining her immigrant status.
Gallardo concurs, "The hardest part was not being with my family."
To endure this painful time of separation, they had to stay focused on the goals that lay in the distance. Along the way, they took comfort in the strength of their friendships.
The Next Step
After almost a decade in the city, they were looking for a place to settle down with their families. That's when Polintan came across the nursing recruitment ad.
At a picnic, Mendoza overheard Seguerra and Polintan planning a visit to Charlottesville, "And I got interested," she explains.
"I have a cousin that lives in northern Virginia," remembers Seguerra. "We asked him to drive us here (UVA hospital) and look around. We sat in the lobby for two hours, just to get a feel and observe. And I saw the diversity of a lot of people of different cultures."
UVA Nursing Career Opportunities

See if a nursing career at UVA is right for you.
Making Charlottesville Home
As with New York, Polintan was the first to arrive in Charlottesville, first finding an apartment, then finding a neighborhood where they all could settle.
"She told us that she likes the place, she likes UVA, she likes everything about Charlottesville," recalls Gallardo. And after Polintan paved the way, the rest soon followed in tandem.
"It was exciting. At first we were all in apartments, but we were not close to each other," says Evangelista. "Yoli (Polintan) was the first one who came, and, again, she was the first one to look for a house. And she found this subdivision, the Redfields subdivision."
Evangelista continues, "Chato (Seguerra) and her sister and Marie are neighbors on one street. But behind their street, there was an empty lot for me."
"We have become a close-knit family. Every year we have a Christmas party," says Seguerra. "We're scheduled to host the party. We're rotating!"
But as their families continue to grow, they're running out of space for their holiday gatherings. "Last party we had to do in a hotel because we'd gotten so big!" says Gallardo.
Keeping Family Together
"The important thing is your family," says Mendoza. "Give them a good education, give them a good life."
"There are still a lot of other Filipinos who followed us here (to UVA)," continues Gallardo. "But we are the original, who came here all… together."
"It's a legacy," says Polintan. "For us, it's like, we own this experience. It's really a nice one."