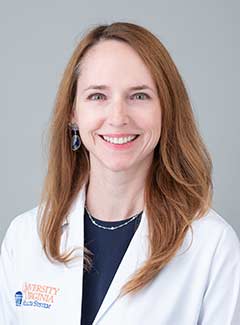 Urologic oncologist Kirsten L Greene, MD, helps patients with urologic cancer by focusing on minimally invasive and robotic surgery techniques. She treats these conditions:
Also, Greene is dedicated to training the next generation of urologic oncologists in her role as chair of the urology department at UVA Health.
Meet a UVA Urologic Oncologist
1. Why did you become a doctor?
I always wanted to be a surgeon, even when I was little. We didn't have anyone in the medical field in my family, so we could never figure out why I was so drawn to it, but it's all I ever wanted to do. I found old photos of me dressed up as a surgeon for Halloween at age three.
2. Why did you choose your specialty?
Beyond wanting to be a surgeon, I have always wanted to be a cancer surgeon. I started out in general surgery and had planned to be a surgical oncologist until I happened to rotate on urology as an intern and realized what a wonderful field it is. But I switched residencies and became a urologist instead of a general surgeon.
3. What is your favorite thing about Charlottesville?
Everything. Because it's a magical place to live and my husband and I love it.
Need a Urologic Oncologist?

Find more about UVA's urology cancer treatments & clinical trials.
4. Where did you grow up?
All over the east coast, moving every 2-3 years. So, I went to high school in Newark, Delaware.
5. What's the most exciting thing/research happening in urologic surgery and oncology right now?
PSMA PET (prostate-specific membrane antigen positron emission tomography) to identify prostate cancer and potentially treat recurrence. Also, HIFU (high-intensity focused ultrasound) is very exciting as a way to treat prostate cancer with fewer side effects.
6. Who is your inspiration or hero?
My Mom. I lost her in 2014, and I still think about her every day. She was always proud of me and always on my side.
7. What's your favorite thing about working at UVA?
My colleagues, everyone I work within the clinic and hospital, all of my patients. People here are genuinely kind. The world needs more of that, and I'm lucky to have found it at UVA.