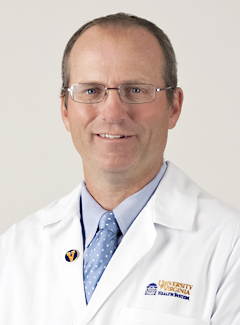 Colorectal surgeon Charles Friel, MD, treats patients with a wide range of digestive health conditions, including:
Colon, anal, rectal and intestine cancers
Colon polyps
Ulcerative colitis
Friel is also a vocal advocate for colorectal cancer screening, sometimes doubling as "Paulie Polyp" to spread awareness.
Meet a UVA Colorectal Surgeon
Friel is originally from Boston and has been at UVA since 2001. We asked him our 7 Quick Questions.
1. Why did you become a doctor?
Truthfully? My mom thought it would be a good idea! But seriously, she saw in me a love for science, problem solving and the desire to work with people. In the end, my mother was right.
2. Why did you choose your specialty?
Colorectal surgery provides a wide breadth of clinical problems, complexity of operations and patient populations. No day is the same. I am lucky to have that variety in medicine.
3. What's your favorite thing about Charlottesville?
The restaurants are great — and the mountains just around the corner. The best of both worlds.
4. Where did you grow up?
In the suburbs of Boston…which makes me a Celtics, Red Sox, Patriots and Bruins fan!
Colon Cancer Diagnosis?

Learn more about colon, anal and rectal cancer treatment at UVA.
5. What's the most exciting thing/research happening in your field right now?
We used to operate on everyone with rectal cancer. Now we are able to cure many without surgery. That is exciting for our patients!
6. Who is your inspiration/hero?
It may sound corny but my father was hard working, brilliant and very kind. If I am at all like him, I would be happy.
7. What's your favorite thing about working at UVA?
The people are all dedicated to their craft. We are lucky to have such a great team.