The tension, the deadline, the 24/7 faxing and calling, and worrying — a baby's life on the line: It's like something out of a movie. And yet, the dramatic reality, trying to get gene therapy to a newborn, happened this summer at UVA Children's.
A baby was born with a rare genetic disorder called spinal muscular atrophy (SMA). Gene therapy medicine exists that, if given quickly enough, could give this baby a chance at a normal life.
Our experts were ready to treat the baby. Our specialty pharmacy team was ready to get the medicine. But the insurance company was not ready to cover the $2+ million cost.
Spoiler alert: This story has a happy ending.
A Genetic Disruption: Spinal Muscular Atrophy
SMA is caused by a missing gene. This disorder destroys motor neurons — the nerves that make it possible to move, walk, and breathe. The disease shows up in infancy or early childhood. Then it gets worse and worse.
Watch Rebecca Scharf, MD, explain spinal muscular atrophy and SMA gene therapy treatment.
Babies born with the most severe form of SMA face severe consequences, says pharmacist Joshua Weber, director of the specialty pharmacy. His team helps obtain and adjust targeted therapies for rare diseases like SMA.
"If untreated, there is only an 8% survival rate at the age of 20 months, with most infants suffering from severe weakness and respiratory challenges," he says. SMA is what Weber calls a "terrible diagnosis."
Avoiding Permanent Damage: Newborn Screening's Impact in Virginia
Virginia law only recently started mandating birth screenings for SMA. The mandate took effect in March of this year. Logan Wescott was born in June.
"I got a call from my regular pediatrician about something abnormal on Logan's newborn screening," says Brittany Wescott, Logan's mother. "I'd never heard of SMA. I didn't really know what they were talking about. They said not to Google it — but I Googled it."
A Terrible Diagnosis: Next Steps
How was she feeling? Not good, as anyone would expect. But at first, mom and dad were betting that the screening had been wrong.
"First, we had to get the bloodwork, and we were still holding out hope that it would come back negative," Chadwick Wescott, Logan's dad, says. "We were thinking we already have 2 healthy kids, so it's not likely."
When they learned that, likely or not, Logan did test positive for SMA, the Wescotts were in shock.
All Chadwick could think was, "What's our next step? We want to do the best we can for Logan. Make sure he has the best life. What do you want us to do?"
The timing meant hope still existed. There actually was something to do. Having the diagnosis so early meant UVA Children's could treat Logan before disabling symptoms began. And this might keep them from ever showing up at all.
Giving this SMA gene therapy to a newborn would be, Weber says, "life-changing." One dose of Zolgensma is all that's needed for it to help. One infusion, one hour. The problem: Cost. This kind of gene therapy costs $2.1 million.
And of course, no insurance company wants to pay that.
That was the beginning, Chadwick says, of the "waiting game. The horror story of insurance."
An Advocate for Logan
Enter Alisha Atchison. "She's helped work through countless insurance denials, appeals, and attempts to restrict access to SMA gene therapy, called Zolgensma," Weber says. In other words: She knows what she's doing.
To Atchison, who's been doing preauthorization work for 2 years at UVA Health, this was "hands down the hardest one."
She wasn't surprised by the initial refusal. Insurance companies tend to reject million-dollar therapies as a first course of action.
"It's not always a bad thing," Atchison explains. "They want to make sure that everything less-invasive is tried first and in the right order."
But in Logan's case, Atchison needed the insurance company to understand the crux of her request. The situation wasn't that simple to explain.
Making the Case for Giving Gene Therapy to a Newborn
"People have an SMN1 gene. If you're born without that, you have a back-up copy that helps substitute the protein needed for motor neuron functioning, but in smaller amounts. The more copies of the back-up a person has, the better chance for survival and the ability to move. Great. That's what we want. But the insurance policy only covers 1 and 2 copies, not 3." And Logan was born with 3 copies.
"They want to treat the worst condition instead of the bad one." Atchison's challenge was to have the insurance company understand that, while Logan didn't have the very worst prognosis, he would still face significant issues if he didn't get SMA gene therapy as a newborn. "My biggest battle was to convince them the baby still needs it." Logan's family could expect him to live into his late-childhood to 30s. And the quality of his life would suffer. Without feeding, breathing, and mobility, he'd live, but he may not function as an independent adult.
On the other hand, gene therapy would give Logan and his family "a better chance at a sense of normalcy. And Logan would have a better chance to thrive and live a better life."
"So that was my biggest battle — proving that although there were 3 copies, Logan still needed this." It took 3 weeks of phone calls, faxes, late nights, emails, paperwork, legwork — exhausting, frustrating work.
Logan's parents were tackling the rejection through the human resources representative at dad's job. "We heard conflicting stories, so our HR rep brought in the internal lawyer," he says. "It went up the corporate ladder and became a nationwide company ordeal." The HR representative also contacted the insurance company and tried to help with the approval process.
The Critical Win for Logan's Future Health
The insurance company finally said yes to UVA Children's giving SMA gene therapy to a newborn. Logan was in.
As soon as the approval came through, Weber says his team kicked into high gear. There was no time to waste.
First, they weighed Logan to ensure the correct dose. In North Carolina, the medicine was compounded and rushed on dry ice straight to UVA Children's. "Then we prepped it for the infusion that same day," he explains.
Logan became the first UVA Children's patient to receive SMA gene therapy due to the state newborn screening program, before symptoms had a chance to start.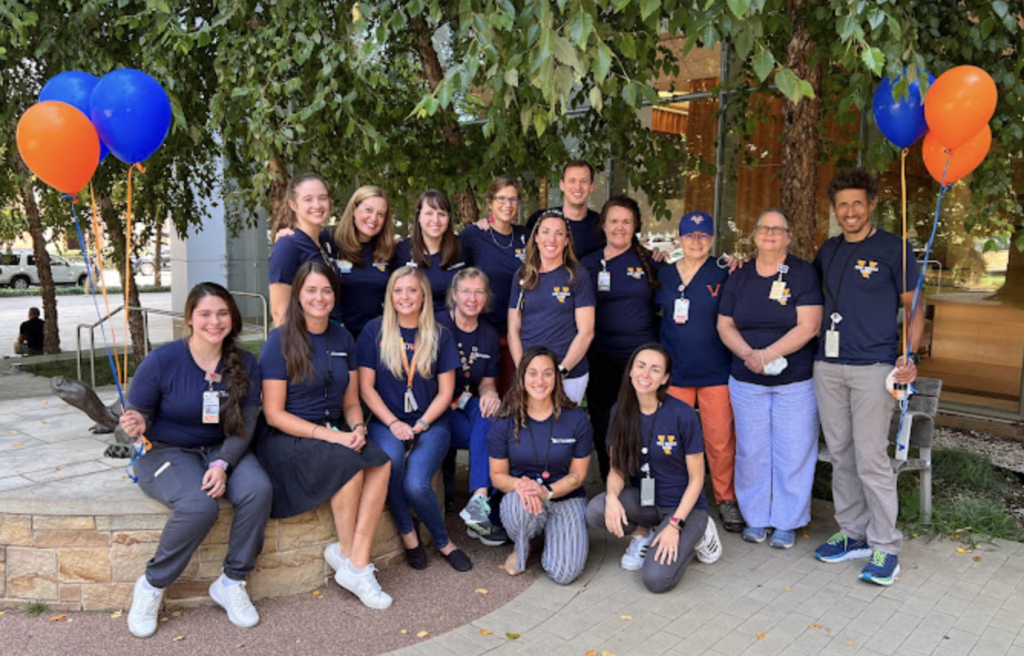 Those Who Made Logan's SMA Gene Therapy Possible
We're at Logan's follow-up checkup, just a few days later. At 5 weeks old, Logan is bright-eyed and alert. He's just had his labs done, so he's fitful at first.
Alisha Atchison is here, too. "Happy to put a face to the name," she says.
The parents, too, are grateful to see the person who made their son's chance to stay strong possible.
"We're so grateful he got this, and as fast as he got it. This was due to Alisha," Chadwick says.
"To be able to treat this disease preemptively in a child without a family history of SMA is miraculous!" exclaims Anna Jesus, MD, one of Logan's doctors. She also gives credit to the parents. "We spoke with them, and they showed up the next day. It's really hard to come to an appointment that's over an hour away on such short notice. When you have other children. They were profoundly responsible for making this happen."
Then there's Rebecca Scharf, MD, who brought gene therapy to UVA Children's, before it was even FDA approved. Scharf lays baby Logan on his back and begins to push her palms against his tiny heels. "Keep those muscles working," she says, satisfied with Logan's progress.
Have a Child With Delays?
See an expert in neurodevelopmental pediatrics.
It is clearly a key moment for all involved. As Jesus says, "He's the first baby we've treated here who was diagnosed via newborn screening in Virginia, before having the symptoms of SMA. So it's really exciting to see where he's going to go."
Scharf notes that legislation to mandate SMA newborn screening "happened later than we would have wanted. We see patients across the lifespan, and we've had several patients get gene therapy. But they've all been diagnosed after they had symptoms. They were further along in disease progression." Caught earlier, doctors could have intervened, and "those babies could have had even more motor progress."
Still, "We are so excited that newborn screening has come to Virginia," says Scharf. "We're so grateful and thankful for the opportunity to treat babies early, so they have the best chance of strong motor function in the future."
Weber adds that Logan's story highlights "the tremendous work being done here by a multidisciplinary team to provide cutting-edge, life-changing gene therapy to our tiniest of patients."
Logan's dad, brimming with pride, sums it up by saying, "It was an absolute nightmare, but everybody went above and beyond."
And Atchison's summary? "Definitely a wild ride."