A surgical oncologist at UVA Cancer Center, Lynn Dengel, MD, treats patients with breast cancer and skin cancer who need surgery.
Get to Know a UVA Cancer Center Breast & Skin Cancer Surgeon
We asked Dengel our 7 quick questions.
1. Why did you become a doctor?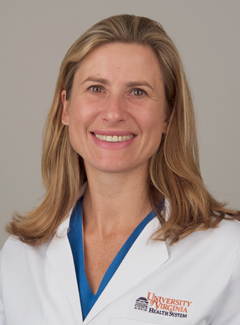 Being a doctor combines my love of science and problem-solving with the joy I receive from helping and teaching others.
2. Why did you choose your specialty?
Being a breast and melanoma surgeon gives me the opportunity to care for my patients in the office and in the operating room. I greatly value being able to develop relationships with and care for patients who are navigating a challenging period in their lives.
I am committed to ensuring my patients have a solid understanding of their disease and treatment recommendations to allow for informed, shared decision-making and a personalized treatment plan. As a surgeon, I am then responsible for carrying out this plan and care for my patients in the operating room, which I find incredibly rewarding.
3. What's something about your specialty that might surprise people?
The treatment is always improving, and patients do better and better with each new treatment option available.
4. What's the most exciting thing happening in your field right now?
Facing Breast Cancer?
Find breast cancer care that's compassionate and accurate, with the best available treatment options, at UVA Cancer Center.
For both breast cancer and melanoma, what I find most exciting is the team approach to research. Many different types of doctors treat cancer, and it is rewarding to see developments in the medical field that can make surgery less invasive.
As a surgeon, it is wonderful to see patients having more minimal procedures, with lower risks and less recovery time, getting back to their lives faster. This improvement comes from the collaboration among the many team members working together for better treatment options for our patients.
5. Where did you grow up?
I grew up in Westchester, New York. However, I have now lived in Virginia longer than New York. And my whole family has moved here, so it is truly now my home.
6. Who is your inspiration or hero?
When it comes to medicine, my mother-in-law, Dr. Gisela Dengel, has been an inspiration throughout my career. She was an incredible pediatrician in Front Royal, Virginia, who was extraordinarily dedicated to the health of her patients. She always reminded me "good medicine takes time."
7. What's your favorite thing about working at UVA Cancer Center?
The people. The patients, nurses, providers, staff, all focused together on improving health in our community and beyond.