Allison Kirkner, ACNP, is a certified acute care nurse practitioner who cares for patients who need complex surgery for heart, vein, and artery conditions.
Kirkner is a graduate of the UVA School of Nursing. She also recieved a master of science in nursing (MSN) degree and acute care nurse practitioner (ACNP) certification, and then returned to UVA Health in 2015 to work as a nurse practitioner in the thoracic cardiovascular intensive care unit (TCVICU). She completed her doctor of nursing practice at UVA in 2022.
Get to Know a Charlottesville-Based Heart Surgery Advanced Care Nursing Practitioner
We asked Kirkner our 7 quick questions.
1. What has most inspired and shaped your approach to patient care?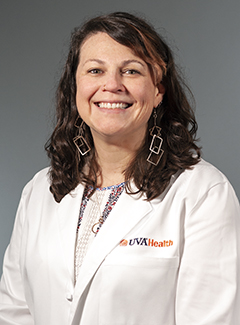 I would say that it's getting to know patients at their most vulnerable. And seeing how so many people are still so inspired and so determined to get better, to improve, to leave the hospital, to go home with their loved ones, and to get back to the life that they were living.
It's hard to have a bad day when people who are so critically ill are working so hard. It's hard to not want to work that hard myself.
2. What's your favorite part of your job?
The people that I work with. We have a really good time. I think that's something that when outsiders, consults, or other folks rotating through see it, it's something that they always comment on.
We manage to keep it as lighthearted as possible, even when things are not necessarily quite so lighthearted, and it's a group of good people that have a really good time while we're doing our best to take care of patients.
3. What's your biggest fear when you're a patient?
My biggest fear would probably be not knowing what was going on – whether it's nobody knows what's going on, or I'm just not being communicated with. The team knows what's going on or the provider caring for me knows what's going on, but hasn't informed me yet or hasn't told me in a way that I understand.
4. What do you do for stress relief?
I have a 9-month-old now. So, spending time with him, spending time with my husband and my dog, and just being able to unplug a little bit and see my son grow up and experience all these brand new things really is quite a stress reliever. I also do enjoy working out.
5. Dogs or Cats?
I'm a dog person. I'm very much a dog person. I'm also pretty allergic to cats, so I spent the large majority of my life not really interacting with them.
I've been on allergy shots so that now I can at least be in the same room with them. And they're growing on me, but I'm definitely a dog person.
Think You're Having Heart Disease Symptoms?
UVA Health heart specialists can check you out, get to the heart of your issues, and recommend the right treatment for you.
6. What's the last movie you saw? Thumbs up or down?
We rewatched Elf, I think, at Christmas. I don't think I've watched a movie since then. No time for movies these days!
It's a thumbs-up. We've watched it every year while decorating the Christmas tree.
7. What's the best advice you've ever heard?
I would say the best advice that I've ever heard, or at least that personally does me well, is to try and take a minute before I speak. Whether I'm very happy or I'm very upset, to just be more... to take a minute to be thoughtful before you send an email or before you say something that is out there that you can't take back.