These days most of us are aware that it's not just how much we eat that matters, but where it comes from.
"It doesn't take a registered dietitian to be able to recognize that a food that travels five miles rather than 5,000 miles to get to your plate is better for you," says Angela Hasemann, registered dietitian at the UVA Children's Fitness Clinic. "Not only are these foods likely to be more nutrient-dense, they probably will taste better too!"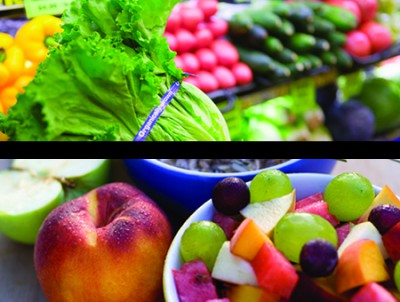 UVA has taken healthy eating a step farther by incorporating a variety of locally grown fruits and vegetables into cafeteria menus and patient offerings. Emily Manley, communications and outreach manager for Local Food Hub, points out that large institutions like hospitals face a particularly daunting challenge when it comes to sourcing local food.
UVA has partnered with the Local Food Hub in a collaboration that is the first of its kind in Virginia. Manley explains that UVA's practices "support the local economy by offering farm-fresh foods in their food service operations."
Specifically, UVA:
Sources 100% of its cafeteria tomatoes from local farmers (when in season)
Offers seasonal farmers' markets in the hospital cafeteria
They are at the forefront of the farm-to-institution movement and regularly serve locally grown tomatoes, squash, eggplant and fruits in the hospital cafeteria menus." This is why the Local Food Hub recently presented the UVA Health System with one of its Community Food Awards, The Institutional Leader Award (News clip from channel 19).
Yesterday we looked at the USDA's new guide to health eating, MyPlate. I asked Manley to describe an example of what a local, seasonally aware MyPlate plate would look like:
Sweet potatoes or winter squash (butternut, acorn, carnival, spaghetti, plus pie pumpkins)
Bell peppers (red, yellow, purple, green), turnips with greens, broccoli and green beans
Apples and pears
Pastured beef or pork
Remember to keep your plate half fruits and veggies, colorful and as local and fresh as possible!