Each Monday this month, we're looking at the UVA Cancer Center's Integrative Medicine Program.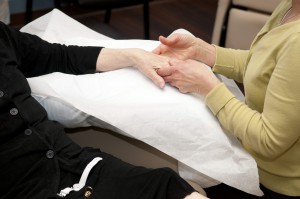 A soothing touch of the hands or a gentle and comforting foot rub. For a cancer patient going through treatment, massage can make a difference. It can ease anxiety for patients. It can distract them from their cares and concerns for just a little while. It can give them the human contact they need.
At UVA Cancert Center Pantops in Charlottesville, massage therapist Deborah Caudle provides just that. She walks through the treatment room, smiling and talking softly to the patients, dispensing hugs and snacks and coffee, along with massages.
Caudle learns where patients hold their tension and she focuses on those areas.
"If you were a little anxious before, her voice and mannerisms will bring you to this place where you're less anxious and you're peaceful," says Gloria Stackhouse, a breast cancer patient from Earlysville.
And that is the primary goal of massage for cancer patients — to provide relaxation and stress relief.
The average massage lasts about 10-15 minutes, although it can be longer if time allows. And if someone's anxiety is very high, Caudle will stay with them longer.
This kind of treatment is mental, physical and spiritual. Caudle listens to their words and their bodies and can sense when they relax. "I want them to have a pleasant memory of what happened while they receive massage," she says.
Types of Massage for Cancer Patients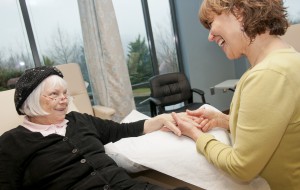 Caudle offers three different types of massage at Hope:
Hand Massage: Hand massage relaxes the shoulders, chest and arms, helping patients who are getting infusion therapy. It reduces body tension, which can also help nurses insert IVs more easily when they're working with anxious patients.
Foot Massage: Patients can read, sleep or just relax while getting a foot massage. The principles of reflexology show that massaging the base of the toes relaxes the head and neck; massaging the outer foot relaxes the shoulders, arm, hips and legs. Working with the heel relaxes the lower back.
Chair Massage: Another option is for patients to sit in a massage chair. During chair massage, the patient sits facing forward and leans on cushions, so the head, shoulders, neck, arms and back are available for the healing touch of light massage
The Benefits of Massage
Stackhouse, 68, says when you have cancer, people aren't sure if they can touch you. That's where Caudle comes in. "This personal, human touch, a healing touch makes a difference," Stackhouse says. "Having her close to you and doing the massages, it makes the treatment go much quicker."
Caudle spends time talking with each patient and getting to know them during the massages.
"We're not talking medicine," she says. "We're talking family. I learn about their pets. I learn about their families."
Massage is a complement to traditional cancer treatment. According to the American Cancer Society, it can help:
Decrease stress
Alleviate anxiety and depression
Reduce pain
Limit fatigue
Manage lymphedema (fluid buildup)
Massage is also offered for patients at UVA's Emily Couric Clinical Cancer as part of our Integrative Medicine Program.
Caudle makes sure to tailor each massage to the patient's needs. Some medications and conditions can affect a person's ability to receive massages. If a patient is on blood thinners, for example, she won't massage their legs because of the increased risk of bleeding, bruising and blood clots.
Stackhouse, who lives in Earlysville, believes treating the whole person with therapies like massage, and not just chemotherapy, has to give patients an added advantage.
"Thank God that UVA has invested in this type of a healing presence that goes with the chemo," she says. "I just think it is such a benefit."