Devon Hendricks, 33, enjoys nail polish, playing with her dog, and spending quality time with her boyfriend, Dennis. Throughout her life, she always experienced headaches, but her struggle to find out what caused them began six years ago.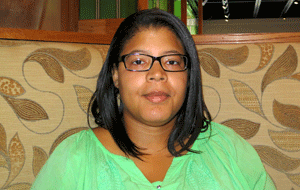 What started as headaches soon grew into a more serious condition. Hendricks began to experience a "whoosing" sound in her ears as if she were holding up a seashell to them. In addition, she began losing vision and feeling an aching crook in her neck. At their worst, her headaches were so bad that Hendricks missed about two weeks of work and was unable to withstand bright lights.
Hendricks visited doctors in Lynchburg and Roanoke who treated singular symptoms but not her condition as a whole. She saw an ophthalmologist for her swollen optic nerve and a neurologist to look for ways to reduce the pressure in her head. To control her symptoms, Hendricks began self-medicating, modified her diet and quit smoking. She was delighted when her symptoms began improving.
Diagnosing Pseudotumor Cerebri
However, Hendricks' gratification was short-lived, and her symptoms returned.  She underwent more testing and was eventually diagnosed with pseudotumor cerebri, a high-pressure condition inside the skull. In some cases, this condition occurs when the veins that drain blood from the brain become narrow and cause pressure to build up. Many patients experience symptoms like:
Headaches
Loss of vision
Dizziness
Ringing in the ears
Pseudotumor cerebri usually affects women ranging in age from 30s to 50s and is often associated with obesity. To help lessen symptoms and to control blood pressure, doctors often recommend weight loss and a low-sodium.
Learn More
In Remission: Relieving Pressure with a Stent
During her struggle, Hendricks went through a CAT scan, an MRI, a spinal tap and an angiogram. Finally, in June 2014, she decided she was done taking pills and done being held captive by her symptoms. It was then that she was referred to Kenneth Liu, MD, in Charlottesville to get the information and care she needed.
Liu performed a novel procedure to implant a stent in Hendricks' brain to open veins and improve the drainage of blood. The pressures in her brain dropped instantly.
Since the procedure, Hendricks has not experienced headaches or the whoosing sound in her ears. Her vision has returned to normal, and she has noticed a positive shift in her mood. Her only side effect – minor pressure in her head – occurs after she sneezes.
"Pseudotumor cerebri is a disorder that has historically been difficult to treat effectively," says Liu. "It's great that we've got this new approach that appears to be providing real relief to most patients. At UVA, we have been able to demonstrate that stenting reliably returns intracranial pressures to normal in appropriate patients."
Liu told Hendricks that she may experience something called stent headaches. She will have to monitor her condition while following up with a neurologist and ophthalmologist. She will also need to have an angiogram performed in December.
"I'm happy to continuously get better," says Hendricks, who says any discomfort she now experiences is nothing compared to what it used to be.
Her boyfriend also acknowledges that since the surgery, Hendricks has transformed into a happier and healthier person. They both attribute Hendricks' success to the quality of care she received from Liu and his medical team. Everything was clearly explained from the beginning, and she felt an astounding level of comfort and confidence with the staff, Hendricks says.
Prior to seeking treatment at UVA, Hendricks felt that no one believed that her condition was either real or serious. She says that the hands-on care provided by Liu "was the answer to everything."
Her advice to others in similar situations:
Do your own research on the condition.
Be patient in the search to find a trustworthy doctor.
Explain all of your symptoms to your doctor, no matter how big or small they may seem
Hendricks believes understanding exactly what she had, knowing the process she would endure ahead of time, and a steady dedication to getting better were essential to her success.
Have you been diagnosed with pseudotumor cerebri or another pituitary tumor? Get more information about the UVA Skull Base Center.