A shocking finding on the immune system, FDA approval of an important minimally invasive treatment for essential tremor, a cancer molecule that might aid in fighting pneumonia, and a federal grant to fight the opioid epidemic: July was an important month for UVA Health System.
FDA Approves Scalpel-free Brain Surgery for Tremor
The Bite-Sized Synopsis: In July, the FDA approved focused ultrasound to treat essential tremor, a neurological condition that causes rhythmic trembling in different parts of the body. This is the culmination of years of research at UVA. "This is a monumental day for people with essential tremor," says Jeff Elias, MD, who led the international clinical trial that demonstrated the safety and effectiveness of the device.
What This Could Mean For You: If you have essential tremor and it doesn't respond to medication, focused ultrasound offers a less-invasive treatment option. UVA is also exploring the possibility that the technology could be used for a wide range of conditions, including prostate cancer, breast tumors, Parkinson's and epilepsy.
Read more about how focused ultrasound can treat essential tremor.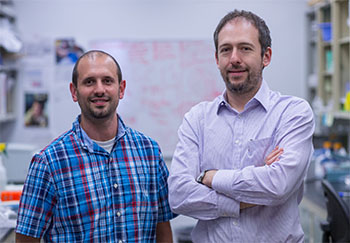 Immune System: Controlling Social Interaction
The Bite-Sized Synopsis: Researchers at the UVA School of Medicine have determined that the immune system directly affects and can even control social behavior. "Part of our personality may actually be dictated by the immune system," says Jonathan Kipnis, PhD, chairman of UVA's Department of Neuroscience.
What This Could Mean For You: Some behavior traits could have evolved from our immune response to pathogens and contribute to an inability to have normal social interactions. This discovery could have great implications for neurological conditions such as autism-spectrum disorders and schizophrenia.
Find out more about this discovery.
Cancer Research Leads to Pneumonia Discovery
The Bite-Sized Synopsis: Researchers discovered that a particular molecule is critical for the body's ability to fight off pneumonia. Augmenting that molecule might offer a way to boost the body's immune system.
What This Could Mean For You: As bacteria become more and more resistant to antibiotics, doctors are on the lookout for alternative ways to boost patients' immune systems. For pneumonia, this molecule may play that role.
Find our more about this surprising discovery.
Federal Grant to Fight Opioid Epidemic
The Bite-Sized Synopsis: A federal grant from the US Department of Agriculture will help combat the opioid epidemic in Southwest Virginia by giving more people access to care through telehealth.
What This Could Mean For You: UVA's telehealth center has helped save patients millions of miles of travel to get the help they need. This grant will offer high quality videoconferencing and in-person care and access to UVA specialists in six Southwest Virginia counties.