Focused Ultrasound for Essential Tremor: International Clinical Trial Results
The Bite-Sized Synopsis: The results from a multi-site clinical trial that evaluated the effectiveness and safety of focused ultrasound as a treatment for essential tremor were published in the New England Journal of Medicine. The trial was led by Jeff Elias, MD, of UVA Health System and featured 76 participants across multiple sites. The researchers found that the procedure was not only safe and effective but that it provided a lasting benefit to reduce the shaking for trial participants.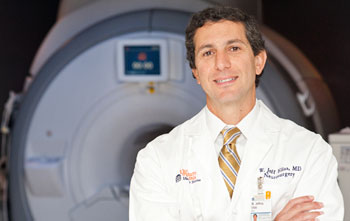 What This Could Mean for You: If you have essential tremor and it doesn't respond to medication, focused ultrasound offers a less-invasive treatment option that can dramatically reduce your shaking. "The degree of tremor control was very good overall in the study, but the most important aspects were the significant gains in disabilities and quality of life – that's what patients really care about," Elias said.
Read more about the clinical trial results and this groundbreaking research.
Finding a Weakness in Aggressive Lung Cancer
The Bite-Sized Synopsis: Small cell lung cancer is the most aggressive form of lung cancer which also makes it one of the deadliest. Fortunately, researchers Dong-Wook Kim, PhD and Kwon Park, PhD at the School of Medicine, have discovered a weakness that could help doctors slow or even stop the disease. Instead of looking at the tumor-forming gene itself, Park looked at the gene's activity and in the process found an existing drug that could slow the production of proteins and thus the growth of tumors.
What This Could Mean for You: The scientists used the existing drug to halt the progression of the cancer in genetically engineered mice. The hope is that the drug will prove to be an effective way to control or prevent small cell tumor growth while sparing healthy cells. The drug is not yet available to patients but is being evaluated for other forms of cancer in Australia and Canada.
Find out more about this research discovery.
Discovery Could Lead to Treatment of Deadly C. diff Strain
The Bite-Sized Synopsis: Scientists from the School of Medicine have discovered what makes an epidemic strain of C. difficile so deadly. Up until now it was not clear what made this strain worse than others. This new research not only explains why it's so deadly but also suggests a way to stop it.
What This Could Mean for You: The discovery was made in the lab of Bill Petri, MD, PhD by PhD student Carrie A. Cowardin. She discovered a potent toxin that this strain of C. diff produces and how the toxin kills protective cells found in the gut. By understanding how this toxin works, it opens to door to finding new treatments that could block the toxin and stop the C. diff infection.
Learn more about this discovery.