If you're anything like me, you love crisp fall nights and light jacket weather. But once I see those first signs of winter, I hibernate and dread the impending snowstorm. Lucky for me, winters in Virginia are nothing compared to those I experienced when living in Pennsylvania. I can handle one or two big storms a year and a treasured snow day sprinkled in between.
With The Old Farmer's Almanac predicting one of Charlottesville's snowiest periods in mid-November, I decided it would be a good idea to familiarize myself about winter preparation.
Tom Berry is UVA Health Systems's director of emergency management. He's been at UVA for about nine years and holds a variety of responsibilities, including managing the Emergency Management Program.
Winter Preparation & Planning Ahead
These are some of Berry's tips.
1) Layer up! Gloves and a hat can help prevent your body heat from escaping.
"You can always peel layers off," says Berry, "but it could become a problem if you don't bring enough, especially if you become stranded in your car during a winter weather incident between work and home."
Recommendation: Keep an old jacket or foil survival blanket in your car.
2) Always have an emergency kit ready.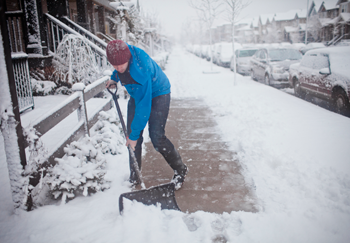 This kit is a collection of basic items you may need in the event of an emergency, including food and water to last at least 72 hours. Other supplies may include:
A flashlight
Medications
Electrical or solar chargers for phones, etc.
A blanket
It should be portable in case you need to evacuate in a moment's notice.
Recommendation: Stock up on water and canned or non-perishable food that has a long shelf life. Create an additional kit for your car.
3) Make and review your family emergency plan.
This can get tricky with school closures and working parents or caregivers.
Recommendation: Sign up for or plan day care options in advance. Make sure your family knows how to get to a safe location and communicate their location to loved ones.
4) Call a heating and ventilation expert.
You should service your heating system once a year. Not only does this ensure it works more efficiently, but it can also prevent a fire. Chimneys should also be cleaned annually.
Recommendation: If your house uses propane, make sure it's topped off or filled up at the beginning of the year and remains full throughout the year.
5) Have the right tools to get out of the snow.
If you don't have 4-wheel drive, consider buying chains for your tires. Kitty litter and sand can also help with tire traction. Additionally, make sure you have a shovel or snow blowing equipment so you can get out of your driveway.
"I'll park my car at the edge of the street so I don't have to shovel all the way in," says Berry. "City and suburb conditions differ, but it's important to make sure you have the right tools."
Recommendation: Take your time shoveling your driveway! For every 20 minutes of exertion, take 10 minutes of rest. This can help prevent medical emergencies, including cardiac arrest.
6) Bring your pets indoors.
Remember how you like being bundled up on the couch with a hot beverage during a storm? Your pets would probably enjoy that, too. Don't leave your furry friends outside in inclement weather or extreme temperatures.
Recommendation: If you feel it's too cold to go outside, then it's probably too cold for your pet.
7) Make sure your pipes don't freeze.
When water freezes it expands and can cause pipes to break. Allowing your sink, tub and shower faucets to drip slowly during extremely cold temperatures can prevent them from bursting and creating a huge water emergency.
Recommendation: Open cabinet doors to allow warmer air to circulate around the plumbing.
Want more resources?

Check out:
8) Keep your thermostat at the same temperature throughout the day and night.
Not only does this ensure your personal comfort, but it also makes sure that your appliances remain at room temperature. This includes water that runs to your fridge and sink. It can also prevent your pipes from freezing and bursting.
Recommendation: Never let your house temperature get below 55 degrees Fahrenheit.
9) Monitor weather conditions.
Stay in touch with local news and radio for information about power outages and updated weather conditions. For extended or sustained outages, follow the guidance of local emergency managers.
Recommendation: Berry says, "purchasing a weather radio can provide information if you don't have immediate access to TV or Internet — they are also great, free apps you can download on your phone."
10) Travel appropriately.
Leave early, as travel will always take a little bit longer in inclement weather. Try to keep your car at a full tank of gas. This way you can keep your car running with heat throughout the night if you get stuck.
Recommendation: Make sure your car never goes below the half-tank mark.