Guest blogger Katherine Basbaum, MS, RD, is a clinical dietitian at UVA Health System who works primarily with cardiac patients.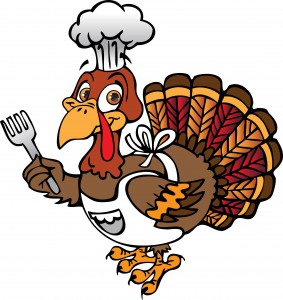 It's November, which means the leaves are falling, mittens and scarves are coming out of hibernation, and it's just about time to start planning holiday menus. I'll be the first to admit that there are some holiday dishes that just shouldn't be messed with. For me, it's the warm buttery rolls that I patiently wait for as the basket makes its way around the table; or the rum cake that makes my mouth water every time I see it center stage on our Thanksgiving dessert table.
Store-Bought vs. Homemade
The truth is, we all have holiday food favorites that we count on to be there when the celebration begins, and for those extra special items, a healthy recipe makeover would be just plain wrong. But if you've been trying to clean up your diet lately (or have thought about it) and want to avoid tighter zippers and popping buttons come January 1, there's a smart (and painless) way to achieve this: Take a little extra time to make from scratch some of the holiday staples that you'd normally serve out of the box or can, which are often loaded with excessive amounts of fat, sugar, salt and preservatives.
To illustrate my point, let's put some store-bought holiday staples in the ring and see how they fare against their homemade counterparts.
Mini Quiche
First up…a timeless crowd-pleaser: The heat & serve mini quiche, conveniently located in your grocer's freezer. These savory two-bite appetizers are a no-brainer when you have a ton of people to serve and prefer to focus your energy on the main event. But when eaten in abundance (and for most of us it's impossible to eat just one), the mini quiche can pack a major punch in the calorie and fat department.  So try a lightened-up homemade version of the mini quiche; the cheesy flavor and fluffy texture remains, but calories and fat are knocked out.

SKIP IT: Quiche Frozen Appetizers
One popular brand packs 230 calories and six grams of saturated fat per serving, plus a lengthy ingredients list.
MAKE IT: Spinach and Mushroom Crustless Mini Quiches
Yield: 24 mini quiches

Ingredients
6 eggs
1/2 cup white or baby bella mushrooms, chopped
1/2 cup leaf spinach, chopped
2 tablespoons grated Parmesan or Swiss cheese
Olive oil or cooking spray
Black pepper and sea salt to taste
Preheat oven to 400 degrees.
In a skillet over medium-high heat, toss mushrooms with about 1 tsp. olive oil for about 5 minutes or until cooked. Turn off the heat and add the spinach, stirring constantly to mix for 1 minute. Pour into a bowl.
Crack 6 eggs into the bowl with the spinach, mushrooms and grated cheese and whisk ingredients together. Add some fresh ground black pepper to suit your personal tastes and whisk again.
Use 2 mini muffin trays and coat with cooking spray or olive oil. Fill each cup 3/4 full of egg mixture.
Place in the oven for 15 minutes.
Remove pans from the oven and allow to cool for a minute before removing the mini quiche. Sprinkle with sea salt and serve hot, or chill in the fridge until cold and serve.
Serving Size: 4 pieces
Calories: 80
Total Fat: 4g
Saturated Fat: 1.5g
Sodium: 100mg
Carbohydrate: 4g
Dietary Fiber: <1g
Sugars: <1g
Protein: 8g
Recipe adapted from The Pescetarian and the Pig.
Cranberry Sauce
Granted, the base for both the canned and the homemade varieties are the same (cranberries, sugar, water), but if you don't like the idea of high- fructose corn syrup making a cameo appearance at your next holiday meal, you may want to skip the canned and make it fresh.
SKIP IT: Canned Whole Berry Cranberry Sauce
This staple features both high-fructose corn syrup and corn syrup, 21 grams of sugar and 110 calories per serving.
MAKE IT: Homemade Cranberry Sauce
Yield: about 2 cups (15 servings)
Ingredients
2/3 cup water
1/2 cup sugar
12-oz bag fresh or frozen cranberries (3 cups)
1/3 cup of orange juice (bottled or freshly squeezed)
This healthier homemade version has just 36 calories per serving. Get the full recipe from Lively Table.
Pumpkin Pie
And finally … pumpkin pie. This quintessential holiday pie is enjoyed by many, but homemade by few. Sure, it's tempting to grab a boxed pumpkin pie from the corner display in your grocery's bakery section. But with just a few ingredients and a little time, you can impress your friends and family with a homemade pumpkin pie that boasts sweet flavor and even sweeter nutritional stats compared to the average store-bought variety.
SKIP IT: Frozen Pumpkin Pie
One popular brand packs 330 calories and 14 grams of fat, plus a number of unpronounceable ingredients you won't find in the homemade version.
MAKE IT: Homemade Classic Pumpkin Pie
Yield: 12 servings (serving size: 1 wedge and about 1 tablespoon topping)
Ingredients
Filling:
3/4 cup packed brown sugar
1 3/4 teaspoons pumpkin pie spice
1/4 teaspoon salt
1 (12-ounce) can evaporated low-fat milk
2 large egg whites
1 large egg
1 (15-ounce) can unsweetened pumpkin
Crust:
1/2 (15-ounce) package refrigerated pie dough (such as Pillsbury)
Cooking spray
Topping:
1/4 cup whipping cream
1 tablespoon amaretto (almond-flavored liqueur)
2 teaspoons powdered sugar

This homemade version cuts about 100 calories and has more fiber per serving. Get the full recipe from Cooking Light Magazine.
There's no escaping it. The holidays — in addition to being about celebration and spending time with loved ones — are also about eating a LOT of delicious food. I say dive in and embrace the season, but do your body a favor with a little pre-season strategizing: Indulge in those few special dishes that truly make your heart and taste-buds sing, but try to balance those rich foods with some lighter, more nutritious (and absolutely delicious!) healthy holiday recipe swaps.
More Healthy Holiday Recipes
Want to make more? Try: