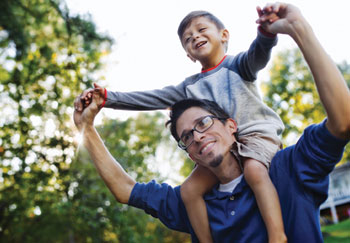 Actor Mark Ruffalo had a rare brain tumor that caused facial paralysis and left him with diminished hearing. Read about his recovery and more in this spring's Vim & Vigor, our family health magazine.
Other stories in this issue:
A Family of Kidney Donors
Elaine Barger had repeat kidney infections as a child. As a result, her kidneys eventually began to fail. After several months on dialysis, her sister proved to be a match and donated a kidney. Elaine then made medical history by becoming the first kidney transplant recipient to give birth at UVA Medical Center when her son Matthew was born.
Years later, Elaine's son Matthew would become a living donor for his son Kaydon who suffered kidney damage from meningitis at just six months old. Read more about their transplant story and living organ donors.
Focused Ultrasound: A New Treatment for Essential Tremor
Essential tremor is a common movement disorder that affects about 10 million Americans. The FDA has recently approved the first focused ultrasound (FUS) device to treat the condition. Jeff Elias, MD, a neurosurgeon at UVA led an international clinical trial to initiate the use of FUS to treat movement disorders. The approval by the FDA opens the door to a future of brain surgery without scalpels or incisions. Learn more about focused ultrasound.
What's Your Cancer Risk?
As we age, our risk for certain cancers changes as well. Get tips from some leading experts about things you can do today to help prevent cancer and things to look out for as we get older. Read more about the cancer risk timeline.