We're trying new heart-healthy recipes and will share the results with you. All recipes are from Club Red, UVA's heart health club for women.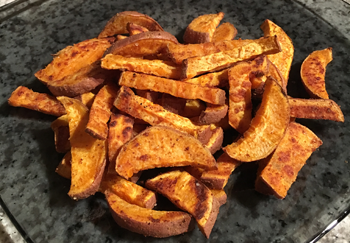 I'll admit it — I'm a lazy cook. I loathe the effort and creativity it takes to put together a tasty meal. I feel like it takes me about one-fourth of the time to consume what I've made as it does to put it together.
That being said, sweet potatoes are a staple on my menu. They're foolproof: easy to cook, tasty to eat and a good source of fiber and vitamin A.
A Healthy Alternative to French Fries
Every now and again, we all get a craving for delicious, salty (and fattening) French fries. Unless you have the metabolism of a young child, those babies go straight to the places we're all trying to avoid. Luckily, sweet potato fries are a healthier alternative that hits the spot.
As I was just cooking for myself, I only used one sweet potato instead of three, and therefore, I used less oil. With previous experience, I can tell you that a good, sharp knife really makes a difference when cutting potatoes. I once used a duller knife and swore I would never cut potatoes again. Don't worry; I've invested in better kitchenware since my college days.
With a sensitive stomach, I try to avoid dairy as much as possible. So, I exchanged the Parmesan cheese for some additional spices like cumin and paprika. I know multiple people who don't like cumin, but I swear by it when I'm making something bland but want a bit of a kick. You could really incorporate any spice or cheeses you want to your potato slices.
Sweet Potato Fries: Get the Recipe
The Verdict
There's more than a 100 percent chance that I will be making these again. Next time I think I will cut the bake time and turn on the broiler for the last few minutes — this will give them a little bit more of a crispiness.
The only downside is waiting for them to cook. But let's be honest, good food takes time, and I don't mean in the microwave.