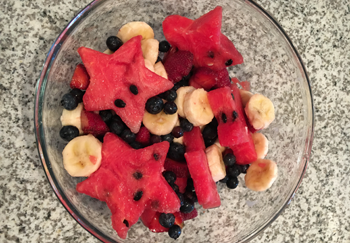 We're trying new heart-healthy recipes and will share the results with you. All recipes are from Club Red, UVA's heart health club for women.
Let's be honest, who doesn't want people to think your themed parties are Pinterest-worthy or Martha Stewart approved? And if it entails little effort but tons of compliments — sign me up!
Hosting a Memorial Day cookout, I was dying to try this easy but adorable star-spangled fruit salad. I used it as my dry run for the larger, upcoming Fourth of July celebrations, because, let's face it, deviled eggs aren't always easy or a hit.
Fruit Salad with Flair
There's nothing better then fresh summer fruit. Store-bought fruit trays are boring, and I've found that the fruit isn't necessarily the freshest or tastiest. What's another alternative? Make it yourself, of course!
For my fruit salad, I cut up:
A full watermelon (not one of those puny round ones)
Some handpicked strawberries (I highly encourage over store bought!)
Two bananas
I also added a pint of blueberries and sprinkled the bowl with lemon juice to keep everything fresh. My $0.69 star shaped cookie cutter held up better than I expected against the thick watermelon slices. No doubt, the hardest part was slicing the watermelon evenly, so the stars were of decent and substantial thickness and didn't fall apart.
Although the original recipe calls for raspberries instead of bananas, I exchanged the fruit to get those beloved patriotic colors. In reality, you can add whatever fruit you wish, but I enjoyed the enhanced visual aspect of my dish.
Get the Recipe
The Verdict
Homerun. My guests, including a one-year-old, were not only impressed but also satisfied with this red, white and blue concoction.
This heart-healthy recipe pairs great with grilled hotdogs or hamburgers. Still filling, this fruit salad definitely has less calories than traditional sides like potato salad.