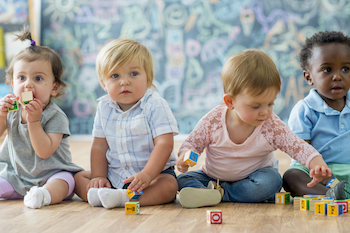 Leigh B. Grossman, MD, contributed this guest post. She specializes in pediatric infectious disease and is the editor of a new book, "A Parent's Survival Guide to Daycare Infections," that is now available in bookstores and online.
Many factors go into choosing the right daycare or preschool for your child. A baby starting daycare as an infant will have different needs than a child who starts daycare as toddler or as a three-year-old entering preschool. A child who is born prematurely or who has food allergies may need a different environment than a child who does not. But whether you choose an in-home provider, a small, unlicensed daycare or a larger center, be sure to ask the providers about health, safety, staff and any other issues that are important to you. Providers should welcome your questions and offer you a tour.
Daycare Center Safety Checklist
Cleanliness
Are food preparation and feeding areas separate from diaper change areas?
Does staff follow hand-washing procedures?
How often are the center, bedding, toys and play equipment cleaned?
Do we bring our own bedding or does the center provide it?
Illness and Accident Policy
What is your policy with regard to food allergies?
When must children stay home because of illness?
How are parents notified of illnesses among children?
Does the center keep a record of health-related problems, such as illnesses, injuries and accidents for each child?
What's their policy on contacting me if my child is involved in an accident?
Vaccinations
Are staff members up to date on their vaccinations?
What's your policy with children and vaccinations?
Do you allow unvaccinated children?
Looking for a Pediatrician?

Find out more about what we offer.
Staff
Does staff submit a medical history, including a physical exam?
How do you vet criminal backgrounds?
Do adults other than staff have access to any of the areas where children are?
What is the state student-to-teacher ratio, and do you adhere to it?
What rules do you have about phone use and video and picture-taking for staff members?
Building Access and Safety Procedures
Where are your fire exits?
What are your procedures in case of fire, weather-related emergencies or other emergencies?
How do you contact us in an emergency?
What security measures do you have in place?
Do you use webcams and if so, are they maintained on a secured network?
Visiting Your Kids at Daycare
Parents should be able to drop in whenever they want. As children get older, classes might have more structure and the staff might prefer that you visit at certain times, but no daycare should have a "no visitors" or "make an appointment if you want to visit" policy.