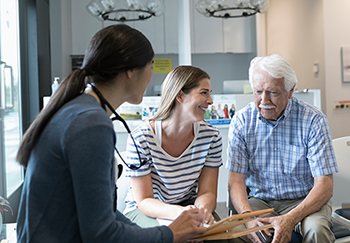 It's happened to everyone at least once – you've left the doctor's office confused. You're asking yourself, "What's wrong with me again? What are my options? What does my treatment include?"
We want our patients to advocate for themselves. So we sat down with Bush Bell, patient experience officer, and Vickie Marsh, patient relations, language and guest services manager, to get some tips on:
What you can bring to your appointments
How to talk to your doctor
"Patients should feel comfortable and empowered to get the care they think they need, deserve and expect," says Bell.
10 Tips: Advocating for Yourself or a Loved One During Doctor & Patient Interaction
1. If you or your family don't understand the diagnosis or treatment options, it's OK to tell your care provider.
"We want patients to ask questions, not be embarrassed," says Bell. "So many of our patients come to UVA because they haven't been able to get their conditioned diagnosed at other hospitals or have been confused. Healthcare is and always will be complicated. So it's very important to us that our patients understand."
The Institute for Healthcare Improvement Ask Me Three® program points to three questions patients should ask their providers to help better understand their conditions and what they need to do to stay healthy:
What is my main problem?
What do I need to do?
Why is it important for me to do this?
2. If you don't feel comfortable asking questions in person, communicate with your care team through MyChart.
It's free to sign up, and you can easily message your doctor through the app or web browser.
3. If you weren't able to ask your doctor questions or didn't understand what the provider explained, ask your nurse.
"A key part of being a registered nurse is providing patient education," says Bell. "They take pride in making sure a patient fully understands their treatment plan."
4. Take notes during your appointment or bring a friend or family member.
When you're navigating a complex condition or new diagnosis, it's hard to keep up with all the information and instructions you're receiving. Try these tips:
Ask the care team to print out any educational materials so you can review them when you get home.
Bring a pen and notebook and take notes or an extra set of ears.
Review the After Visit Summary, which you'll get at the end of your appointment. You can also find this in MyChart.
5. Bring a list of questions to your clinic visit. Before the appointment starts, tell the nurse or doctor you have questions.
That way, if you forget during the appointment, they can make sure to answer your questions before you leave.
6. If you're unsure how much a procedure or surgery costs, ask.
You can:
Remember to also check with your insurance company to see what they do or don't cover and to see if you need a referral.
7. If you aren't connecting with your doctor, you should feel comfortable switching primary care doctors or specialists.
Bell recommends being up front as possible with your current doctor and telling them how you feel. If you still are not connecting, ask, "Can you refer me to one of your colleagues?"
8. If you feel you were misdiagnosed, aren't receiving good clinical care or your doctor isn't listening to you, talk to your care team first.
Be honest with providers. If nothing changes and you're still concerned, Marsh says to contact the Patient Relations Office at 434.924.8315 or through their feedback form.
Patient Relations remains neutral and guides a conversation between the patient and the care team.
Care Questions? Want to Share a Great Experience?

Contact us about medical services, billing or care.
9. If you're a caregiver attending an appointment with a loved one, discuss the appointment with them ahead of time.
"You should have a conversation about what the caregiver's role will be at the appointment," says Marsh. "Is it just to listen or take notes? Or would the patient like the caregiver to ask questions they, as the patient, don't feel comfortable asking?"
10. If English isn't your first language, ask your care team for interpretation services.
Even if a family member is present who speaks your language, having a professional medical interpreter present is so important since they have the necessary skills to interpret complex medical information appropriately. Cyracom, an app that provides live in-person video or voice interpretation, is also used by care teams to communicate with non-English speaking patients. If you are Spanish-speaking and need to make an appointment, call 877.297.2366 to be immediately connected with a scheduler who speaks Spanish.