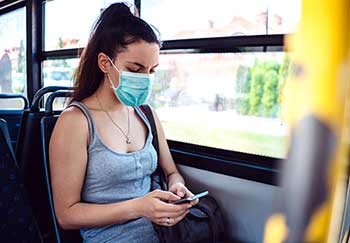 Update, March 17: Coronavirus and COVID-19 cases are appearing in Virginia. Get the latest coronavirus information for UVA patients.
Update, Jan. 30: The World Health Organization has declared the coronavirus an international health emergency.
Globally, coronavirus (COVID-19) continues to spread. If you're starting to feel a little nervous, you should know:
You're not alone
There's no need to panic
William Petri, MD, an infectious disease expert, offers some guidance to clarify the myths and facts.
What is the Coronavirus?
Myth: The coronavirus is new.
Fact: Yes and no. This particular type, or strain, of coronavirus — now called SARS-CoV-2— is new to humans, although previously, it lived in animals. SARS-CoV-2 causes a respiratory illness that's called COVID-19 (which stands for "coronavirus disease 2019").
Remember outbreaks of MERS and SARS? Those were also coronaviruses. They, too, had once lived only in animals, then jumped to humans. (MERS and SARS likely started in bats.) The ability to jump between animals and humans is called "zoonotic."
Other, less dangerous strains of coronaviruses exist around the world and cause certain common colds.
Coronavirus Symptoms
Myth: My child is sniffling. It's probably the coronavirus.
Fact: Your child probably doesn't have COVID-19 if they haven't been traveling or in close contact with someone with confirmed COVID-19. But, it's hard to be sure if someone is infected with coronavirus without testing.
The symptoms of COVID-19 are similar to those of the flu, which right now is also very common. Public health officials around the country are recommending that anyone showing the following flu-like respiratory symptoms call their doctor for guidance:
Coronavirus symptoms can show up anywhere from 2 to 14 days after you're exposed to the virus.
Call your doctor immediately for guidance or call 911 if you develop severe respiratory symptoms or also have:
Difficulty breathing or shortness of breath
Pain or pressure in the chest that won't go away
New confusion or difficulty waking up or staying awake
Bluish lips or face
Myth: You can't spread this coronavirus if you don't have symptoms.
Fact: At first, investigators thought only people with symptoms of the virus could spread it to other people. Recently, new studies have suggested that the coronavirus can possibly spread before symptoms show. It's also possible for coronavirus to live on a contaminated surface and infect someone when they touch that surface and then transfer the virus to their eyes, nose or mouth.
However, people are most contagious when they are showing symptoms, and that seems to be the main way coronavirus spreads.
How to Avoid Getting Infected
Myth: If I had a flu shot, I'm vaccinated against the coronavirus.
Fact: We don't have a vaccine to protect against this strain of the coronavirus. Even if you had a flu shot, you could get this infection. However, research is ongoing to develop a vaccine.
Myth: You have to wear a face mask to stay safe.
Fact: Right now, health officials don't recommend that everyone in central Virginia start wearing masks. In fact, face masks are in short supply! The best steps to protect yourself are:
Washing your hands with soap and water often, or using hand sanitizer if you can't wash.
Avoiding touching your face.
Avoiding close contact with people who are sick.
Keeping distance between yourself and other people if COVID-19 is spreading in your community. This is especially important for older people and those with chronic health conditions.
Face masks are recommended if you'll be in close or direct contact with someone with a known coronavirus infection (like if you're caring for someone with COVID-19), or if you've been advised to go out to get health care because you're having flu-like symptoms.
Myth: I'll need to take extra precautions to avoid catching the coronavirus.
Fact: Right now, following good cleaning and hygiene habits are recommended to avoid catching COVID-19:
Wash your hands frequently, with soap and water, for at least 20 seconds.
Use hand sanitizer if you can't wash your hands.
Avoid touching your eyes, nose or mouth with unwashed hands.
Stay home when you're sick.
Cover your nose and mouth with a tissue when you cough or sneeze, and then throw the tissue in the trash. Alternately, cough or sneeze into your elbow to avoid putting germs on your hands that can spread to others.
Avoid close contact (such as kissing, sharing cups, or sharing eating utensils) with people who are sick.
Clean and disinfect frequently touched surfaces. Most household disinfectants should work fine (see the CDC's guideline).
What to Do if You're at Risk for Coronavirus

If you have:

Fever
Cough
Difficulty breathing

Call your primary care doctor or UVA Health at 434.924.0000. Call before you leave home and follow the instructions you're given.
What Happens if You Get Sick
Myth: If you are pretty healthy, with no underlying diseases or conditions, you don't need to worry about the coronavirus.
Fact: It's a little hard to tell who gets hit hard by COVID-19. So far, it looks like the people most at risk for severe complications of COVID-19 are older people, those with compromised immune systems (like cancer and transplant patients), and those with other chronic health conditions.
Most importantly, if you're sick, stay home. If you think you're having flu-like symptoms, call UVA Health at 434.924.0000 for screening and guidance on coronavirus testing, if needed.
Myth: If you get the coronavirus, you die.
Fact: No. Most people who have been infected with this coronavirus strain have survived. However, since some people are more at risk for dying than others, it's important to be mindful and not spread any germs around. Practice good hygiene and follow CDC guidance if COVID-19 is in your area.
This post was first published on Jan. 28, 2020. It was last updated on March 17, 2020 by Luis Soler Rivera.