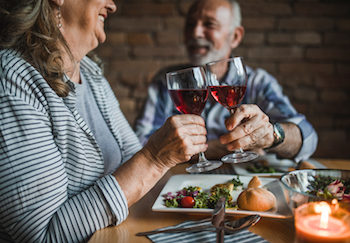 Nothing says, "I love you," like sweet sentiments stamped on hard, chalky, heart-shaped candies, right? Wrong! There are much better ways to show all of the special people in your life you care this Valentine's Day. It is Heart Month, after all. So why not plan a Valentine's Day date night that will make their hearts happy and keep them healthy?
We asked registered dietitian Katherine Basbaum to share some of her favorite healthy and unique Valentine's Day ideas below.
Healthy Valentines's Day Ideas
Sweet Galentine's Get-Together
Hosting a party with your favorite girls? Instead of diving into a bowl of cheese dip and a pitcher of margaritas, channel your inner 1970s hostess-with-the-mostest and pull out the fondue pot. No fatty cheese allowed!
Instead, Basbaum recommends cutting up a variety of fruits (strawberries, bananas, pineapple and more). Fill your fondue pot with a rich, dark chocolate sauce. Pair it with a cool Greek yogurt dip for vanilla lovers.
Toast your friendship with a signature cocktail or mocktail. Just steer clear of the fruit juices and sweet mixers. Opt for a white wine spritzer, champagne or trendy spiked seltzer instead.
"Mixed cocktails with juices have a lot of added calories and sugar, which increases your risk for heart disease and the empty calories can derail weight loss efforts," says Basbaum. "Try to satisfy your sweet tooth with the chocolate rather than beverages. It's easy to overdo it when you're drinking."
Remember, if you're hosting, keep non-alcoholic beverages easily within reach. "It's a good idea to switch to water or sparkling water every other drink," suggests Basbaum.
Valentine's Day Family Fun
You could hit the easy button and order in from your local pizzeria. But the family that cooks together makes memories together, not to mention a healthier meal. Basbaum recommends a make-your-own pizza with heart-shaped, whole-wheat crusts, homemade sauce and lots of veggie toppings for a fun Valentine's Day idea.
"Whole wheat dough is higher in fiber, vitamins and minerals," says Basbaum. "Plus, it is a slower-burning complex carbohydrate. So there's a slower rise in blood sugar, meaning you feel fuller longer."
You might also try a cauliflower crust to sneak in even more of the good stuff. "With cauliflower crust, you're getting a whole serving of vegetables even before you add the toppings," says Basbaum.
For dessert, try this heart-healthy and heart-shaped take on Rice Krispies® treats. Or raid your kids' stash of Valentine's candy. "Treats are part of the holiday, so I don't think you should avoid them altogether," says Basbaum. "But try to encourage kids – and remind yourself – not to go overboard. Everyone has their favorites, so be picky. Don't eat everything; only indulge in the things you get the most pleasure from."
A Decadent Date Night
Valentine's Day comes but once a year, so treat yourself and your significant other with a decadent night out. "This is not the night to go out to eat and order the baked chicken and salad with dressing on the side," says Basbaum. "You can be heart smart and still spoil yourself."
The solution: share the love. "Splitting an entrée is romantic and sensual, plus it's half the calories. Consider ordering two appetizers and sharing a main dish," says Basbaum. "A rich fish like salmon is always a good choice, or a lean steak feels indulgent without going overboard. All it takes is a little effort, and you'll be eating better than most who are dining out."
To drink, you can't go wrong with a glass of red wine. "There has been some research that shows the polyphenols in red wine are antioxidants. They have anti-inflammatory and cardio-protective effects," says Basbaum.
If you opt for a romantic night in, Basbaum offers these tips for cooking something heart-healthy, yet still delicious:
Looking for More Healthy Recipe Ideas?

Check out our Healthy Balance recipe library.
Choose fresh over processed or canned whenever possible.
Look for healthier alternatives to your favorites, like whole wheat pasta noodles rather than regular pasta, or try substituting ingredients. (Check out this flourless chocolate cake!)
Watch the sauces and dressings. Try olive oil, lemon juice and herbs rather than bottled salad dressings.
Hide the salt; it's ok to add a little during cooking, but keep it off the table.
The key to being heart-healthy during these celebrations and year-round, according to Basbaum: "Always be trying." A little effort to make the right choices goes a long way.