Christine Ibilibor, MD, is a urologic cancer surgeon at UVA Health. She treats patients with kidney, bladder, and genital cancers. She specializes in surgery using robots. With robotic surgery, wounds heal faster and recovery time is shorter because only small cuts (called incisions) are used to do the surgery.
Get to Know a Charlottesville-Based Urology Cancer Surgeon
We asked Ibilibor our 7 quick questions.
1. What has most inspired and shaped your approach to patient care?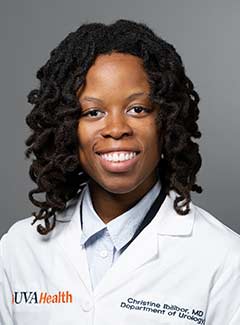 I'm a proponent and practitioner of mindfulness. I think mindfulness has allowed me to approach patients with more openness as far as their experiences, particularly their experience with their cancer. I think that it has really helped change the way I treat patients and discuss their care with them.
2. What's your favorite part of your job?
The best part of my job is having a patient tell me, "Thank you," that they felt comfortable, and that they trusted me with their procedure or care.
3. What's your biggest fear when you're a patient?
As a patient myself, the biggest fear I could experience would be not understanding the treatment regimen or not having enough information to make a decision about the next steps.
4. What do you do for stress relief?
I do yoga and meditate. I've found it to be extremely helpful for managing my stress. Being a physician can be very stressful, but mindfulness and yoga practices have helped me manage that.
5. Dogs or Cats?
I'm a cat person. I love how sneaky cats are. They're just very funny, cute, and "sneaky" in that way.
Worried It Might Be Cancer?
The urology cancer specialists at UVA Health can check you out and answer your questions.
6. What's the last movie you saw? Thumbs up or down?
Nope by Jordan Peele. It was very good, cinematically, and very interesting. A very mysterious movie. Thumbs up!
7. What's the best advice you've ever heard?
I think the best piece of advice I've ever heard from anyone was when I was a medical student. I was shadowing this general surgeon and asked him, "What's the best way to take care of patients so that they do well and that they know that you care about them?"
He said, "Make sure that your patients know that you love them." And I was really taken aback by that because he was kind of a gruff person, not someone that I would have thought to say anything about love or kindness.