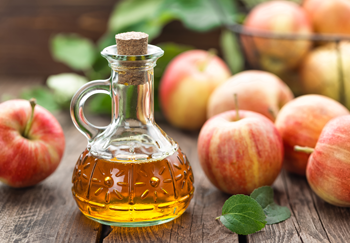 Apple cider vinegar: A quick Google search results in pages of suspected benefits and uses of the product. It's been a topic of conversation since the 1820s, and now this homeopathic, natural remedy is resurging as a fad for medicinal uses.
According to the Google results, apple cider vinegar allegedly:
Lowers blood sugar levels
Helps you lose weight
Lowers your cholesterol
May have protective effects against cancer
Promotes healthy detoxification of the liver
Slows the aging process
The most common way to take apple cider vinegar is to mix 1-2 teaspoons in a glass of water, but it can also be taken in pill form.
Ask The Expert: Does Apple Cider Vinegar Work?
To clear up some speculation and intrigue, I met with Katherine Basbaum, RS, RD, a clinical dietitian for UVA's Heart and Vascular Center and nutrition expert for UVA's Club Red.
Basbaum is a hardcore believer in evidence-based research. When I reached out to her about this topic, she immediately asked if she could have some time to review the current research. Basically, she knows her stuff, and if she's unsure, she'll do the work to find out the most knowledgeable answers.
Basbaum clarifies that most of the promoted evidence is based on research of vinegar or acetic acid, not specifically apple cider vinegar. The studies she read interchanged apple cider with other types of vinegar, like rice, white, wine, black, etc. "It's misleading people into thinking that these study results were thanks to a magical, special component in apple cider vinegar as opposed to the distilled white vinegar that they have in their cabinet," she says.
Basbaum researched the most commonly talked about benefits: weight loss, lowering cholesterol and controlling blood sugar.
Weight Loss
To date, aside from preliminary animal studies, there's only been one fairly large Japanese human study conducted on the benefits of apple cider vinegar and weight loss. About 175 overweight men and women participated in the study. It was broken down into three groups: the placebo group, the small dose of apple cider vinegar group and a larger dose group.
Over a 12-week period, without any changes to diet or exercise, the participants who included apple cider vinegar in their daily routine only saw an average weight loss of 2-4 pounds.
The kicker? The study was funded by a Japanese vinegar company. "It's a big red flag, and kind of a conflict of interest," says Basbaum. "The bottom line is that we need more studies."
Conclusion: Apple cider vinegar may help you jump-start your weight-loss regime, but simply ingesting it doesn't make the fat melt off.
Cholesterol
Most of the evidence out there is from animal studies, which isn't really enough to go on when deciding whether to change your diet. In her job as a dietitian for post-heart attack patients, Basbaum tries to get patients to reduce their need for cholesterol medication through nutrition, like eating whole grains, fruits and vegetables and heart-healthy fats. Based on her research, a teaspoon of vinegar before or with meals might help those effects a little bit more.
Conclusion: It could be helpful, but more long-term studies are needed to identify the benefits. "I don't know if I'll be recommending apple cider vinegar in clinic yet, but there's preliminary research that suggests a small amount of success," adds Basbaum.
Blood Sugar
There's a lot of conflicting evidence, but according to Basbaum's research, apple cider vinegar has the largest effect on blood sugar, specifically lowering hemoglobin A1C and postprandial glucose levels. Ingesting apple cider vinegar on a daily basis won't get you off insulin or let you stop watching your diet, but drinking the water mixture before meals may have some potential benefits.
Conclusion: You don't need it, but you can certainly try it.
Apple Cider Vinegar Fad: Key Takeaways
"There's no magic bullet or substitute for the evidence-based research and science we have of how to lose weight or lower your cholesterol and blood sugar levels with lifestyle choices," says Basbaum. But she offers words of wisdom for those interested in the apple cider vinegar fad:
There's no harm in apple cider vinegar if you choose to take it in moderate doses, whether it's diluted in water and taken as a beverage or incorporated into foods such as salad dressing or coleslaw.
If it sounds too good to be true, it probably is. Beware of the nutrition advice and health claims you see on the Internet, television and in magazines.
Looking to make dietary changes?

Learn about UVA's nutrition services.
Basbaum also highly encourages those that wish to make large health changes to seek appropriate medical expertise from a doctor or registered dietitian.
"My favorite part about my job is when I can genuinely surprise my patients with how much easier it is than they think to accomplish their goals through diet," says Basbaum. "It never gets old to have patients embrace the education and think, 'I can do that — that's not impossible.'"